Benton Harbor DDA acquires State Theatre, plans restoration and development
---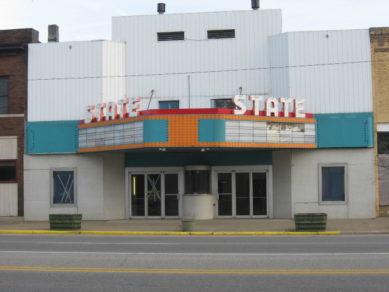 An ambitious plan is afoot to resurrect the State Theater in downtown Benton Harbor as an entertainment venue for live and filmed/recorded presentations. It is led by the Benton Harbor Downtown Development Authority and its chairman Richard Hensel. The DDA took possession of the State Theater last Wednesday. Ownership was transferred via a property donation from owner Steven Brickman of South Haven, valued at approximately $400,000.
Hensel, who has been trying to save and restore the building for many years, told MoodyOnTheMarket.com that a recent cash donation of $100,000 to the DDA from a local family foundation set the wheels in motion to kick off the project: first to acquire the building and stabilize it, then to restore and revitalize the building for an exciting future of community use. The supporting family has asked to remain anonymous.
Hensel said the theater has been idle — and unheated — for at least 14 years. So the immediate challenge is to patch a leaky roof and "dry out" the building, while engineers and architects determine what is needed, and then what may be possible, to restore the structure to its former importance. He hopes to engage engineering firm Wightman to begin this analysis and planning effort soon.
The State Theater opened its doors 80 years ago on May 14, 1942. World War II was raging, and the people of Twin Cities were thrilled to have another state-of-the-art cinema. It closed about 40 years later, along with most other retail operations in downtown Benton Harbor, as the economic center of the area moved to the Orchards Mall area in the township of Benton.
There were several attempts to reorient the state, including an after-school program for 80s youth that ran for several years, led by community organizer Sherron Weeks. Later, a non-profit group reopened it in theaters. And, briefly, it hosted community events, including Habitat for Humanity rallies with former President Jimmy Carter, who visited the city several times as part of his campaign to build Habitat homes.
Hensel and his DDA committee believe the state's future is a multipurpose theater and event hub. However, this new role is probably expected in at least three years. A preliminary estimate indicates that it will take $1.5 million to complete basic repairs and restoration, before any new specialized equipment or technology is added. He speculates that it may take a year to stabilize the building and then focus on exterior restoration first, which will help convey the "vision" of the project to the community and raise additional funds. The second year would involve repurposing and redecorating the interior. And, at age three, he sees the new space occupied and functional with optimism.
Hensel thinks the state can serve as a mid-size venue that fits between several smaller theater spaces in the area and the 1,500-seat Mendel Center at Lake Michigan College. He envisions, for example, that a commercially viable theater festival could be developed in downtown Benton Harbor, with the Citadel, Ghostlight and State Theaters all involved. He predicts that the remodeled state's final seating capacity will be around 500 seats, slightly larger than its current seating layout. And he envisions food and beverage service eventually being available on-site to facilitate quality shows and events.
Hensel points to economic research that shows North Berrien County residents spend $66 million annually on entertainment and consumers within a 40-mile radius spend $190 million annually. He cites the success of multifaceted venues like the Acorn Theater in Three Oaks as evidence that residents seek a wide range of music, theater and live performance, and movie entertainment.
Hensel's shared vision for the State Theater's return to glory includes a striking exterior look that dates back to 1942 and would be a highlight on Benton Harbor's Main Street. His eyes light up when he tells us: "The theater marquee was burgundy, white and gold. The walls were glazed cobalt blue and white brick, with glass block windows in the foyer on either side of the entrance. The glazed brick and glass blocks are said to still lie beneath a layer of surface tiles added in the 1960s. Hensel hopes the distinctive 1940s look can be recreated for a new century.
The State Theater project is the largest ever undertaken by the Benton Harbor DDA. The group remained inactive for decades. But in recent years, it has undertaken several "feel good" and tourism development efforts. Downtown Benton Harbor Christmas lights upgrades and lighting ceremonies were hosted by the DDA. And this year's addition of a DDA Visitor Center to 5th and Territorial has been such a success that its summer run has been extended through December. The visitor center is housed in several large, brightly painted shipping containers.
Hensel says his DDA group is good at bringing together the efforts of multiple organizations and funding sources. And he hopes that will continue for the theater project. For example, he hopes a grant from the Brownfield Authority could be a next step in restoring the theater, after the planning and stabilization phase funded by the foundation's anonymous donation.
Hensel says the DDA felt strong support for the project from Benton Harbor Mayor Marcus Muhammed, City Manager Ellis Mitchell, Community Development Director Alex Little and the City Commission. Commissioner Jerry Edwards is a member of Hensel's DDA Special Committee on the project which also includes Linda Allen, Virgil Hatcher and Bill Stohler. Hensel looks forward to potential support and partnerships with larger groups such as the Southwestern Michigan Tourist Council and Cornerstone Alliance.
The DDA recently added a new website showcasing its activities and offering local small businesses a way to connect with each other. More information at www.BHNow.com