Jim Dey | 'Party with a Purpose' fundraiser a huge success | Columns
---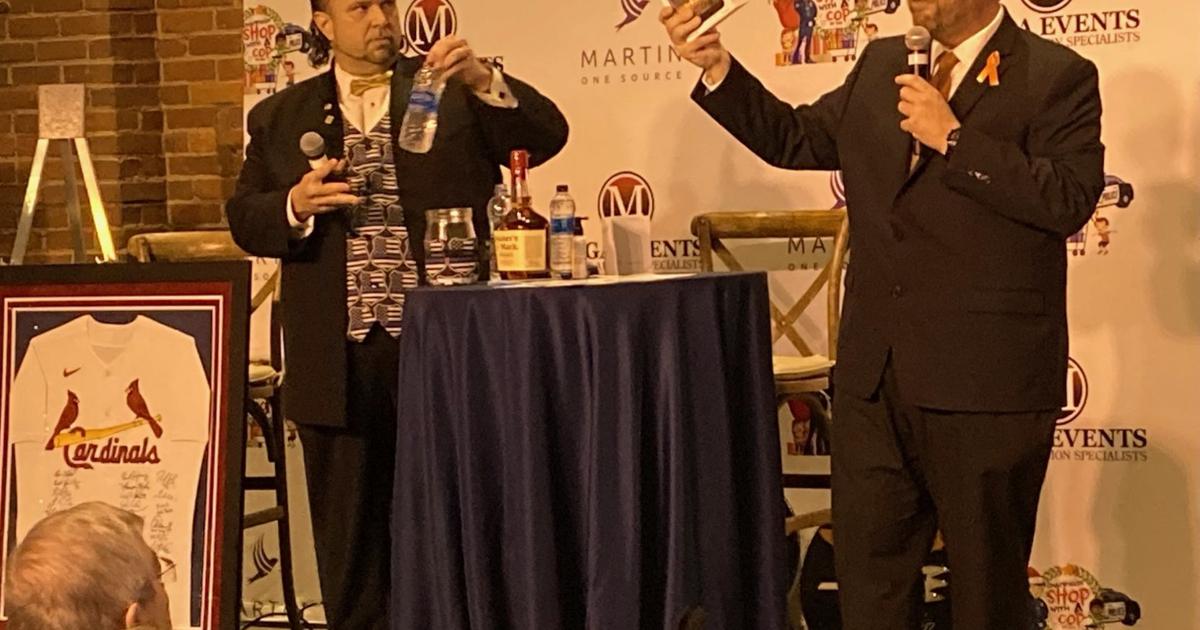 [ad_1]
It's time once again to dive into yet another series of quick shots of the people, places and events we've been talking about over the past week:
Party power
Mike Namoff of Champaign called his Dec. 4 fundraiser a "party with a purpose," designed to show public support for police officers and raise money for their Shop with a Cop program.
Now that it's over, Namoff calls it a huge success and is already planning a second party for December 2022.
"I have already signed (singer) Lee Greenwood to start the night with 'Proud to be an American'," Namoff said.
The fundraiser took place at the Carmon's event center in downtown Champaign, and the hall was full, with a strong representation of members of the law enforcement community.
"The focus of the evening was a party for the police to build morale and raise awareness and also sponsor 50 new kids to go shopping with a cop. We blew that away, "said Namoff, a local entrepreneur and fundraiser for various causes.
He said the charity event – which included both a public and silent auction – raised enough money to add "over 200 new children to Shop with a Cop."
Namoff said the effort continues to attract donations and the "incredible" participation has yielded positive spinoffs.
"We teamed up with Jonathan Blake with Citizens Against Gun Violence, and party guests for the police sponsored 400 Ringbells," Namoff said, referring to home security equipment.
In addition, he said, "we were able to donate $ 3,000 to St. Jude because it is an organization that supports the police, as the police assist them and oversee their runs in St. Jude. . "
The party featured famous guests. Actor / comedian Michael Winslow from the "Police Academy" films entertained the crowd. Retired Milwaukee County Sheriff David Clarke gave officers in attendance a pep talk on the need to maintain a positive attitude in the face of anti-police protests.
The most popular guest was former Navy SEAL Robert O'Neill, who killed al-Qaida leader Osama bin Laden, the organizer of the September 11, 2001 terrorist attacks, in a 2011 raid on Bin Laden's compound in Pakistan.
The despised fans
Remember the old adage that "Hell has no fury like a despised woman"?
This may need to be revised in light of reactions from fans and sports journalists when popular college basketball and football coaches leave their teams to earn more money at other schools.
Take Brian Kelly to Notre Dame. He had told reporters that he had no interest in leaving his post as a football coach. But Kelly admitted that if another school offered him a lot more money than he earned at Notre Dame, he might take it.
This is exactly what LSU did. So, as he had said, Kelly rushed for the bayou and a 10-year, $ 95 million contract.
The fans, of course, were angry. But so were sports journalists, like Chicago Tribune columnist Paul Sullivan.
Sullivan hailed the hiring of new Notre Dame coach Marcus Freeman, Kelly's defensive coordinator, as a good move, one of the reasons being that "Freeman will not be Brian Kelly".
"It's a very good thing for the university and its national fan base," Sullivan wrote.
Yeah, that rotten Kelly. All he did in his 12 years at Notre Dame was become the school's most successful coach (113-40) and get his teams to bowling games 11 out of 12 . What a moron.
Emotion clearly reigns in circumstances like this, where the thin line between love and hate is displayed. Many Notre Dame fans loved Kelly when he was their coach, but said they changed their minds after he left.
Sullivan put it this way, "Now he's gone, and the Freeman era has begun. The luck of the Irish at last.
Imminent death
A three-judge federal panel this week heard arguments from the coalition of groups arguing that the gerrymandered Illinois state legislative map illegally deprives black and Hispanic voters of the right to vote.
It is not known when the court will rule, but it must be relatively early because the electoral deadlines begin in January as a prelude to the primaries of June 2022.
An attorney for the Springfield Qualified Democrats acknowledged that moving minority populations to predominantly white districts was one way to improve the electoral prospects of incumbent White Democrats. But he argued it was legal because voters in Illinois don't vote based on race.
"We're not in Mississippi in 1965. We're not in Illinois in 1980. We're in Illinois (now) and the results speak for themselves," Democratic attorney Sean Berkowitz said , noting that blacks, Latinos and Asians are well represented in the party caucus.
A coalition of groups – the Mexican American Legal Defense and Education Fund, the Republican Party and the NAACP – argue that Democrats' efforts to protect incumbent lawmakers leave them unconstitutionally under-represented relative to their percentage of the population of the 'Illinois.
They want a number of legislative districts in the state House and Senate, primarily in the Chicago area, to be redesigned so that there are more majority minority districts that will elect more black and Hispanic lawmakers. than would be the case according to the map promulgated by Governor JB. Pritzker.
The truth of the grave?
The late Robert Dole, the 1996 Republican presidential candidate and longtime US senator from Kansas, had an evil sense of humor, even in death.
He wrote a farewell letter read by his daughter during a memorial service after his death on Sunday at the age of 98. He included in his missive a non-tribute to Chicago's reputation for dirty politics.
"I also admit that I am a little curious whether I am correct in thinking that paradise will be very much like Kansas and to see, like others who have come before me, if I will still be able to vote in Chicago," he wrote.
Smart Money is betting the Lifetime Republican will be able to vote in Chicago, but his ballot will be registered as a pure Democrat.
Dole's caustic humor was an acquired taste that reflected sarcasm, a harsh take on human nature, and a pleasant mischief that matched his status as a seriously injured WWII veteran.
Despite being close and friend of former President Richard Nixon, one of Dole's best lines was aimed at the President who was forced to step down due to his role in the Watergate scandal.
During remarks, Dole shared the story of when he saw former Presidents Gerald Ford, Jimmy Carter and Richard Nixon stand together on the podium.
Dole claimed he told people to "Look! Hear no evil, see no evil, and evil (Nixon).
[ad_2]