Ashaadibi Education & Cultural Center Announced as Winners of No Place for Hate Pledge Contest
---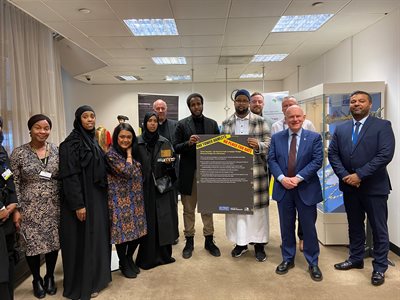 Ashaadibi Education & Cultural Center has been announced as the winner of Tower Hamlets' No Place for Hate pledge competition.
The center held a series of hate crime awareness events that helped it get more than 200 new registrations for the pledge.
The competition takes place each year during National Hate Crimes Awareness Week (October 9-16, 2021) and encourages individuals and organizations to sign the Tower Hamlets Council's No Place for Hate Pledge. Signatories are encouraged to take action and proactively address hate.
Representatives of the Ashaadibi Education & Cultural Center received their awards at City Hall on Monday, March 21, which also marked the International Day for the Elimination of Racial Discrimination.
John Biggs, Mayor of Tower Hamlets, said:
"I would like to congratulate the Ashaadibi Cultural and Education Center for winning our annual No Place for Hate competition. The work they have done to raise awareness and encourage action against hate crimes is an example for all of us.
"I encourage everyone to sign our No Place for Hate pledge so that we can be united in our solidarity against hate crimes."
Tower Hamlets continues to be a multiple award-winning borough in its work to tackle hate crime. To date, the board has received over 5,000 personal pledges and 200 organizational No Place for Hate pledges.
Sahra Mire of Ashaadibi Education & Cultural Center said:
"We are delighted to have been announced the winners of the council's No Place for Hate pledge competition. At Ashaadibi Education & Cultural Center we do not condone hate crimes or hate speech and we are passionate about raising awareness and encouraging everyone to get involved. Together we can send a clear message that hate crime is not tolerated in Tower Hamlets. »
By signing the pledge, individuals and organizations agree to:
Do your best to fight prejudice and stop those who, out of hatred or ignorance, would hurt someone or violate their dignity

Try at all times to be aware of your own biases and seek to understand those you perceive to be different from you
Speak out against all forms of prejudice and discrimination

Reach out to support those who are the target of hate

Think about specific ways your community can promote respect for all and make Tower Hamlets No Place for Hate.
Councilor Sirajul Islam, Cabinet Member for Community Security, said:
"We take hate crime seriously and work alongside our partners to raise awareness of what a hate crime is, ensure people know how to report a crime and identify perpetrators.
"At Tower Hamlets, we believe it is everyone's job to stand up against hate crimes and how they may present themselves. Kudos to everyone at Ashaadibi Education & Cultural Center for all their hard work in this area.
To learn more about hate crimes, what the council does and how to report, please visit the hate crimes page.
To sign the council's No Place for Hate pledge, please visit the No Place for Hate pledge page.
Posted on Tuesday, March 22, 2022