The stadium that will host the FIBA ​​Basketball World Cup will be named Indonesia Arena
---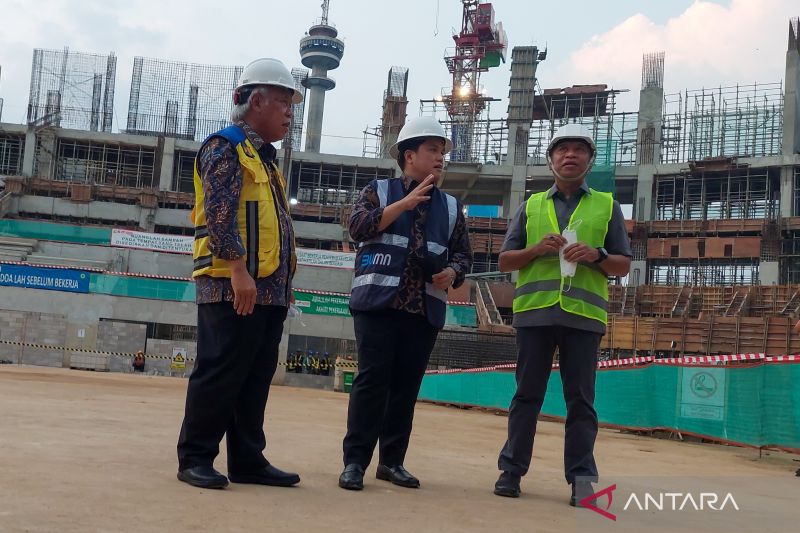 Jakarta (ANTARA) – A stadium under construction in Jakarta which is to host the FIBA ​​Basketball World Cup 2023 is expected to be named Indonesia Arena, Youth and Sports Minister Zainudin Amali has said.
The multifunctional stadium will not only serve as a venue for sporting events, but also for non-sporting activities, such as music concerts, he said.
"Because this stadium is multifunctional for the community, the plan for its name is Indonesia Arena," Amali remarked while reviewing the construction progress of the stadium at Gelora Bung Karno (GBK) Sports Complex, Senayan. , Jakarta, Friday.
During the inspection, Amali was accompanied by the Minister of Public Works and Public Housing, Basuki Hadimuljono, and the Minister of Public Enterprises (SOE), Erick Thohir.
The Indonesia Arena is part of the facilities in the GBK zone dedicated to the sporting achievements of the country, Amali said.
"It should be used as much as possible to improve our sports achievements, not only for basketball but also for other branches," he added.
Meanwhile, Hadimuljono revealed that the Indonesia Arena has a maximum seating capacity of 16,500 which can be expanded or reduced.
"If it (the reception capacity) is extended, it can reach 16,000, if it is reduced, it would be 13,500," he stressed.
Hadimuljono said that based on the construction contract, the indoor multipurpose stadium for the FIBA ​​Basketball World Cup 2023 is expected to be completed by March 2023.
"However, with fairly good progress, hopefully it will be completed in December 2022. This multifunctional stadium is in the middle of the city with great greening. Few cities in the world have this kind of thing. The parking lot is spacious and facilities are adequate," he said.
"The stadium is covered so it can be used for other matches, like badminton, volleyball and others," Thohir added.
Related News: FIBA ​​World Cup Arena set to be completed by January 2023
Related News: Bank Mandiri becomes main sponsor of FIBA ​​Basketball World Cup 2023