The coldest air of the season sweeps across the eastern United States, spreading frost alerts in Florida
---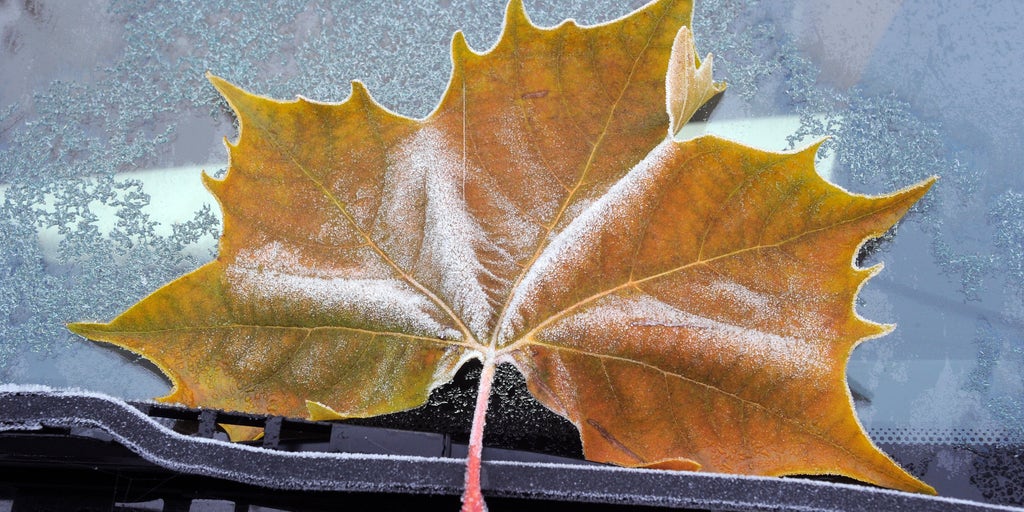 The coldest air so far this fall is sweeping across a large area of ​​the Midwest, South and East, putting millions at risk of their first frost of the season as far south as the Gulf Coast and the West Florida Panhandle.
A cold Canadian high pressure system tracked by the FOX Forecast Center is responsible for introducing the widespread cold air mass, which will continue to dominate the weather across the eastern half of the United States through mid-week.
This early season cold snap will provide the lowest temperatures since April in many areas. Most places from the Midwest to the Gulf and East Coasts are expected to see temperatures between 15 and 30 degrees below average through Wednesday.
HOW TO WATCH FOX WEATHER
A cold front moved offshore, ushering in a high pressure system outside of Canada.
(FOX Weather)
---
Cold air began moving across the country from Canada on Monday, but was felt by millions on Tuesday and Wednesday.
"Part of the reason this is happening is that we have a dip in the jet stream," FOX Weather meteorologist Jason Frazer said. "It basically allows all that cold, Canadian air to sneak in."
LA NINA WINTER WILL MEAN PARTS OF US FEEL LIKE TUNDRA BUT SNOW-COVERED WONDERLANDS MAY BE HARD TO COME
A widespread cold air mass infiltrated the United States this week.
(FOX Weather)
---
A lake-effect snowstorm in Michigan's Upper Peninsula and northern Wisconsin also resulted from this blast of cold air.
As of Tuesday evening, up to 18 inches of snow had been reported in the town of Gile, Wisconsin, along the state's border with Michigan.
WINTER STORM DROPS 18 INCHES OF SNOW LEAVING THOUSANDS IN THE DARK IN MICHIGAN
How low will the temperatures go?
This invasion of cold air prompted the National Weather Service to issue frost warnings and frost advisories for more than 90 million Americans in the Midwest, South and East.
According to the FOX Forecast Center, the annual growing season will likely end in many areas due to the likelihood of temperatures dropping near or below 32 degrees in locations covered by frost warnings. This includes cities as far south as Atlanta, Mobile in Alabama and Baton Rouge in Louisiana.
"Make sure that if you have cold-sensitive plants or pets outside, cover them or bring them inside," Frazer said.
FARMERS' ALMANAC DECLARES PARTS OF US 'HIBERNATION ZONE' WITH 'FREEZY AND SNOW-FILLED' WINTER EXPECTED
Frost warnings and frost advisories have been issued in the Midwest, South and East.
(FOX Weather)
---
The cold air mass will provide morning lows and afternoon highs much colder than average across the Midwest, South and East.
As of Tuesday morning, more than a dozen record-breaking lows were scattered across the Central Plains and mid-Mississippi Valley as frigid air began to settle. Kansas City, Missouri, dropped to 25 degrees early Tuesday, beating its previous record for the date of 28 degrees set in 1972. A low of 25 degrees is more typical of mid-December than mid-October.
The FOX Forecast Center expects millions of people from the Canadian border to the northern Gulf Coast to experience temperatures near or below freezing Wednesday and Thursday morning, including as far south as southern 'Alabama and West Florida Panhandle.
HERE'S WHEN TO EXPECT THE FIRST FROST OF THE SEASON
Along the Interstate 95 corridor in the northeast, low temperatures will generally remain above freezing for the next couple of mornings, but there could still be areas of frost as lows drop into the mid 30s with a light wind in cities like Philadelphia and Baltimore.
It will be several degrees colder in the Interior Northeast and northern New England, where temperatures near or below freezing are expected Wednesday and Thursday morning, although many places in those areas have already dropped to 32 this season.
Low forecast Wednesday morning.
(FOX Weather)
---
More than four dozen record lows could be tied or broken Wednesday morning from Iowa south to Texas and east to southeast. Another twenty record lows will then be threatened Thursday morning across the Southeast.
Atlanta's daily record low of 33 degrees on Wednesday will be threatened, as will the record 32 degrees in Montgomery, Alabama, and the record 31 degrees in Knoxville, Tennessee.
Potential record lows Wednesday morning.
(FOX Weather)
---
Meanwhile, afternoon high temperatures will be locked into the 40s from the northern plains and upper Midwest to the interior northeast for the next few days.
While not as cold, highs will still be chilly across the rest of the Midwest and the East, with temperatures remaining in the 50s from the Interstate 95 corridor in the Northeast to parts of the South East.
GULF COAST STATES ARE AMONG THE MOST VULNERABLE TO BILLION-DOLLAR DISASTERS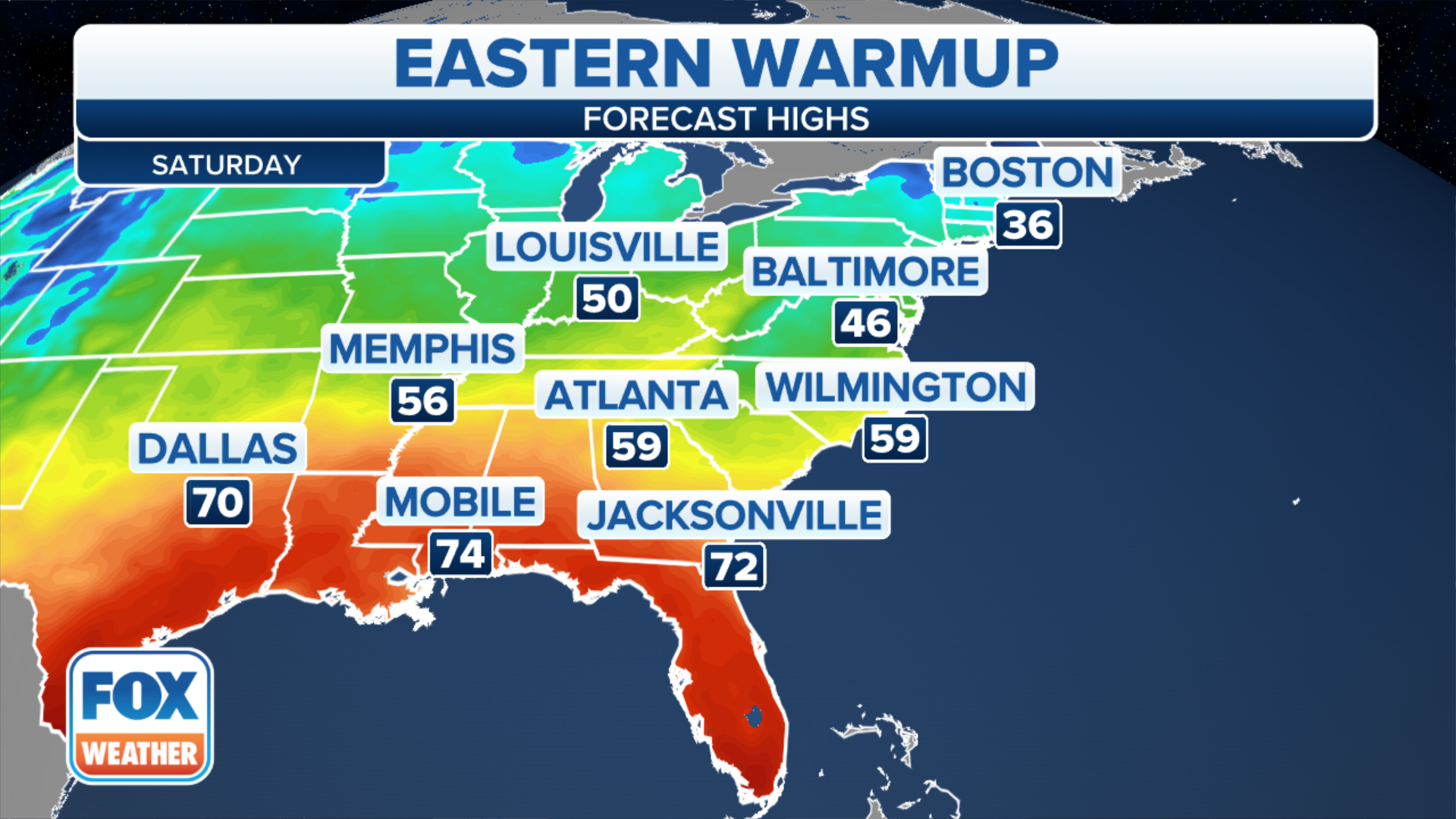 Maximum forecast Wednesday.
(FOX Weather)
---
"I think it's going to have an even bigger impact for people in the south – of course we feel the bitter cold in the north – but in the south it's really the first taste of cold air, and with well below average temperatures, you're really going to take notice," said FOX Weather meteorologist Britta Merwin.
If you're not quite ready for the fall chill this early in the season, you're in luck. A pattern shift across the United States is expected to take shape by this weekend, returning temperatures to above average for most areas east of the Rockies.
The latest 6-10 day temperature forecast from NOAA's Climate Prediction Center highlights the Ohio Valley and the Northeast as having the highest likelihood of warmer than average temperatures next week, but Above average heat is expected to dominate from the plains south to the Gulf and eastern coasts.